07-01-2022
Our First Neuton Maker Day and a Cool Competition for Makers
Driven by a great desire to try new formats and templates, we launched our very first Neuton Maker Day. The webinar, which took place on June 30, brought together five talented makers who shared their unique ready-to-go tinyML projects developed with the Neuton platform.
The event was hosted by Neuton and Electromaker in tandem and featured cool prizes for both speakers and attendees from our sponsors, Arduino and Packt. 
We've also launched a competition, "From Idea to Solution with Neuton", that you have a chance to participate in!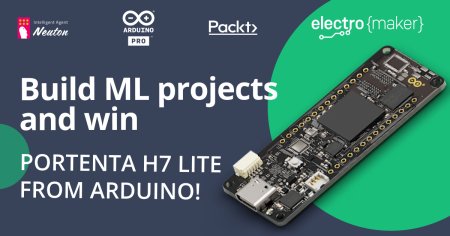 Conditions:
Create a tinyML project with any Arduino board on the Neuton TinyML platform.

Submit your project on Electromaker.io by September 1.

Win an Arduino board, Portenta H7 Lite, and present your project on our next Neuton Maker Day!

 
Check out the presented projects to find inspiration to develop your own:
Explore our insightful projects and learn the art of creating super tiny models in 3 clicks now!
Featured hardware:
Arduino Pro Nicla Sense ME
Arduino Nano 33 BLE Sense
M5Stack
AmazonWeb Services AWS IoT EduKit
Onsemi RSL10-SENSE-GEVK
Sensor fusion: Bosch BHI160, Bosch BME680, Bosch BHI260AP